Rocktrax presents :
18 Januari 2014
Interview with Monte Pittman !! His new album "The Power of Three" will be released next week. Between 9 - 10 pm CET the interview will be broadcasted including 3 songs of "The Power of Three"
4 Januari 2014 :
Classic Rocktrax !! Greatest classic rock and metaltraxx from 8 - 11 pm CET ! Check www.vechtdalfm.nl for stream !
www.facebook.com/rocktrax for latest updates
www.mixcloud.com/rocktrax for archive broadcastings
4/1 Overview interviews 93-present re-newed with some direct links to the interviews !!
(listen live to Rocktrax, click on logo)
30 November :
Interview with John Hayes (Mother's Finest/The John Hayes Project/The Romance/DoubleBlood) between 9 - 10 pm CET in Rocktrax !! Music from the album Choose (Feat. T.I.M.) and some Mother's Finest classics. Check it out ! John Hayes in Rocktrax !
21st September
Interview with Whitfield Crane (Ugly Kid Joe) has been broadcasted in Rocktrax !! Check here for the interview and also my new broadcastings archive :
For latest news go to :
www.facebook.com/rocktrax and I hope you'll like the page !
Thanks !
17th August
Interview with Dilana Robichaux about her new album Beautiful Monster between 8 -9 PM CET, also CD of The Week from Onslaught, new releases : Ministry, Arc Angel, Protector, Trouble, Iwrestleddabearonce, We Butter Bread With Butter, Fergie Frederiksson and lots more, listen to Rocktrax between 8 - 11 PM on www.vechtdalfm.nl
May 2013
New releases of U.D.O., Spiritual Beggars, The Poodles, Burning Rain, Timo Tolkki's Avalon, PYRITHION, Howl, Heaven Shall Burn, Starkill, Iced Earth (live), Templeton Peck & lots more.
Attention for Fortarock (1-6-2013) , interviews and lots of great music like every week in Rocktrax on Vechtdal FM.
March 2013
16th March : CD of the Week: Dark New Day - Hail Mary (Features members of Evanescence, Sevendust, Stereomud, Eye Empire and Virgos) Verder oa. nieuwe Call of The Void, Pretty Maids, Stryper, Six Feet Under, Inter Arma, Beyond The Shore, De La Cruz, Sebastian Bach (live), Psychopunch, Helker, Hell or Highwater and lots more in Rocktrax, more than 21 years on Vechtdal FM ! Listen Online 8 - 11 PM CET every Saturdayevening !

January 2013
Everybody best wishes for 2013 ! Rock on with Rocktrax, almost 21 years on air !
Check for the latest info www.facebook.com/rocktrax
5th January : Classic Rocktrax
12th January : a.o. new Voivod, Snakecharmer, Jorn, Nightfall, Spyker, Riverside, Pink Cream 69, Crashdiet & much more
19th January : CD of the week : Voivod - Target Earth. New Blockheads, Witchgrave, Snakecharmer, Alpha Tiger, Unantastbar & more !
26th January : CD of teh Week : Raven Black Night - Barbarian Winter.
2012
1st September :
CD of the Week : Just Like Vinyl - Black Mass
New releases : Stealing Axxion, Repent, Grave, The Mystery, Bad Poetry Band, Emerald, Elvenking, Kryptos, Kaipa, Bleed the Freaks and also new single from The Darkness and "Money is The Whip" from My Son The Bum, they released a video last week for this song on youtube. Win a free cd of My Son The Bum, the new album, Flipside of A Fairytale by liking www.facebook.com/rocktrax and then send a mail with subject My Son The Bum to Rocktrax.
25th August in Rocktrax
Interview with Iris Boanta (The Mystery / Black Thunder) about the new album "Apocalypse 666" from The Mystery. Release 7th September 2012.
Listen on www.vechtdalfm.nl for streams. Interviews will be posted later in http://soundcloud.com/rocktrax-interviews
CAMPINGKAARTEN ZWARTE CROSS TE WINNEN BIJ ROCKTRAX !!
Rocktrax mag 1 x 2 campingkaarten voor de Zwarte Cross weggeven ! Dus 3 dagen toegang tot de Zwarte Cross inclusief campingplaatsen. Meedoen is eenvoudig, kijk op www.facebook.com/rocktrax voor de prijsvraag. (en "like" de pagina meteen ff)
De Zwarte Cross wordt gehouden op 20/21/22 Juli a.s. in Lichtenvoorde.
Op vrijdag treden er enkel buitenlandse namen aan. Legende Exodus (VS) keert wegens succes terug naar Lichtenvoorde en het Zweedse Pain sluit de eerste festivaldag af. Suicidal Angels (GR), Municipal Waste (VS), Alestorm (GB) completeren de vrijdag. De programmering puilt op zaterdag uit met negen bands. De Nederlandse metalcoreformatie Deadbeat opent de dag, waarna Tornado (VS/NL), Dog Eat Dog (VS), Textures (NL), Hell (GB), Lizzy Borden (VS), Doro (DUI) en Sonata Arctica (FIN) aantreden. De Duitse speedmetalband Kreator, waarvan het nieuwe album Phantom Antichrist net is verschenen, verzorgt het laatste optreden van de zaterdag. De hoofdact van de zondag is de legendarische Amerikaanse hardcoreband Suicidal Tendencies, ook spelen My Propane (NL) Backfire!(NL) en NWOBHM legenden Satan (UK) op de laatste festivaldag.

9 Juni :
CD van de Week : Lita Ford - Living Like A Runaway (18-6 release)
Nieuw : Spineshank, Black Thunder (!!), Saga, Jorn, Circus Maximus, Running Wild, Downspirit, Clairvoyants, 16, Six Feet Under, Architects, Malice en een nieuwe track van My Son The Bum.
In het 1e uur herhaling van Interviewspecial met Dilana voor wie het 28 April gemist heeft !
Between 8 - 9 PM CET Re-broadcasting of the Dilana Interviewspecial of 28th April !

28 April :
INTERVIEWSPECIAL MET DILANA ROBICHAUX !!
Tussen 20 - 21 uur 45 minuten interviewspecial met Dilana en muziek van haar cd Inside Out en haar nieuwste single Sexaholic !
Check it out - Dilana in Rocktrax (regular guest since 1997 !!)
Interview between 8-9 pm CET. Check for streams www.vechtdalfm.nl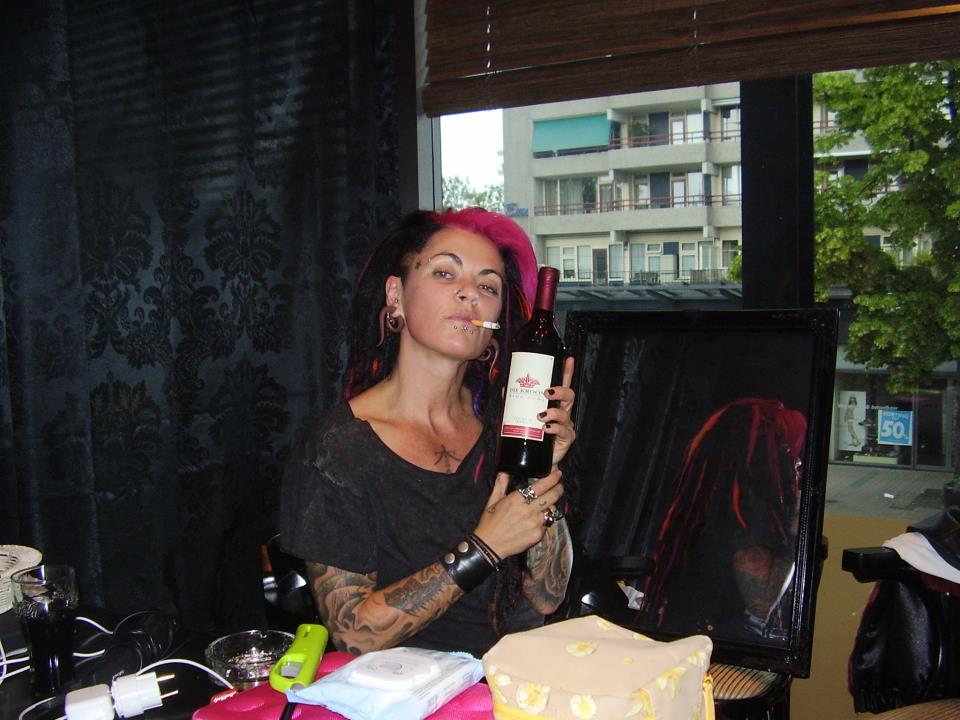 21 April :
CD Van de Week : Prong - Carved into Stone ! (17 Mei te zien op Dauwpop)
2 Vrijkaarten te winnen voor Oranjepop te Ommen op 28 April a.s. !
Nieuwe releases oa. Arjen Lucassen, Paradise Lost, Exumer, Ribozyme, Crazy Lixx, Trixter, High on Fire en veel meer !
Actie : "Like" de facebookpagina van Rocktrax en maak kans op de nieuwe cd "Flipside of a Fairytale" van My Son The Bum (USA, special import)
15 Maart 2012 : Rocktrax 20 Jaar op de radio !
Kijk op www.facebook.com/rocktrax en like deze pagina voor altijd de laatste updates ! Playlisten Nov/Dec 2011 nu ook online.
Interviews met Leon Goewie en Bob Bagchus staan nu online, zie Interviewarchive 2.
TRIBUTE TO MANNY VAN OOSTEN ON ROCKTRAX.NL
STREAMS : Check http://vechtdalfm.nl/livestream
By TwitterButtons.com
Rocktrax op Vechtdal FM
Iedere zaterdagavond tussen 20.00 en 23.00 uur is Rocktrax te beluisteren op Vechtdal FM. Via de website van Vechtdal FM is de stream te ontvangen, verder via de ether en op de kabel in de gemeenten Dalfsen en Ommen. Al bijna 18 jaar is het programma "on air" met een mix van classic rock, hardrock, vele soorten metal, concertinformatie en nieuwtjes uit de rock & metalscene.
Every saturdayevening Rocktrax can be heard on Vechtdal FM from 8 - 11 PM. On the www.vechtdalfm.nl website you can receive the webstream. Further on Vechtdal FM can be received in Ether and on cableradio in Nieuwleusen, Dalfsen, Ommen and wide area. Rocktrax is on air for almost 18 years with a mix of classic rock, hardrock, all kinds of metal, concertinformation and the latest news in rock & metalscene.